SEXING A HIPPO IS NOT AN EASY FEAT
"Hippopotamus at the Zoological Gardens
Regent's Park, 1852"
–by the Count of Montizón
From Mr Jay Starkman.
Sir, I was delighted to see an 1852 photograph of Obaysch, Europe's first hippopotamus, in your article on 19th century photography ("The quirks steal the show", November 4). The London Zoo couldn't determine his gender when they acquired him in 1850. His offspring, born on November 5 1872, was named "Guy Fawkes". It was over a year before the zoo discovered its error and renamed the calf "Miss Fawkes".
A tax story originated with Obaysch. Middleton Beaman, the House of Representatives legislative counsel, chided the tax-writing committees, saying that the complex tax laws they were writing would make predicting the courts' interpretation of them as difficult as determining the sex of a hippopotamus.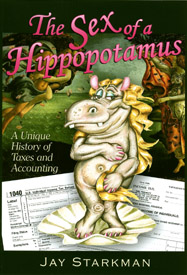 Jay Starkman,
Atlanta, GA, US
Published in London's
Financial Times
, November 6, 2009
Read more about Obaysch in the
sample pages
, or better yet, treat yourself and buy the book: